Why do you need to search safest places to travel in Mexico? Don't worry, I know the reason for your worries. Because if you are thinking of traveling to Mexico, of course, the first question on your mind is: Is Mexico safe to travel to? And it is also necessary to raise this question. Because Mexico has gained a reputation as one of the most violent nations in the Americas in recent years. The State Department has even issued a travel advisory for the country as a result of the completely out-of-control crime and violence along the US border.
Does this mean that it is risky to travel to Mexico? The short answer is ABSOLUTELY NO. Mexico is probably just as safe as your own area. Nevertheless, some regions are safer than others, just like in your own city. No matter where you go in the world, using common sense will help you visit the correct places. For example, there are certain areas of your city that you very certainly won't ever go to or won't go to at night. There is a rationale for that. The same holds true for Mexico.
What is the truth for safety in Mexico for travelers?
What Westerners think about Mexico differs greatly from what is actually taking place. Many people mistakenly believe that Mexico is a big war zone without having a clear knowledge of its size or the root causes of the violence.
It is difficult to truly grasp how horrible things are, even though this is not the case. The regions with the highest levels of violence provide virtually little trustworthy news. Due to their fear of the cartels, much Mexican media have ceased covering drug-related homicides. It is abundantly obvious from the scant information that reaches the public that violent crimes are rising quickly in border cities like Tijuana, Ciudad Juarez, and Nogales.
Drug cartels are constantly at war with one another for control of the drug trade. Additionally, they fight government forces that attempt to stop their activities. The fundamental reason for the rise in violence in northern Mexico is this ongoing fighting.
Although there is a lot of crime and violence in Mexico, this does not mean you need to stay home or be afraid. Because of the size of the nation, you will not be affected by violence if you are far away. The majority of violent crime in Mexico is drug-related and takes place close to the US border. You will not even notice it if you travel to some safe portions of Mexico. Additionally, tourists are rarely involved in most of the violence, which occurs between Mexican police and drug dealers. You will be alright as long as you stay away from drugs and take care. And also avoiding flashing cash or other symbols of affluence, only going during the day, and staying on major roadways are all recommended precautions.
Safest Places to Travel in Mexico
If you still believe that Mexico is an unsafe destination, then I guarantee that after reading this article you will definitely add Mexico to your bucket list. Because Mexico is a place where everyone smiles, the weather is always pleasant, and the cuisine is always good. Mexico is a place with some of the best resorts and beaches in the world, you can unwind and really enjoy life. Let's start the journey of the best and safest places to travel in Mexico where you can enjoy your vacation with fun and without fear.
Tulum Town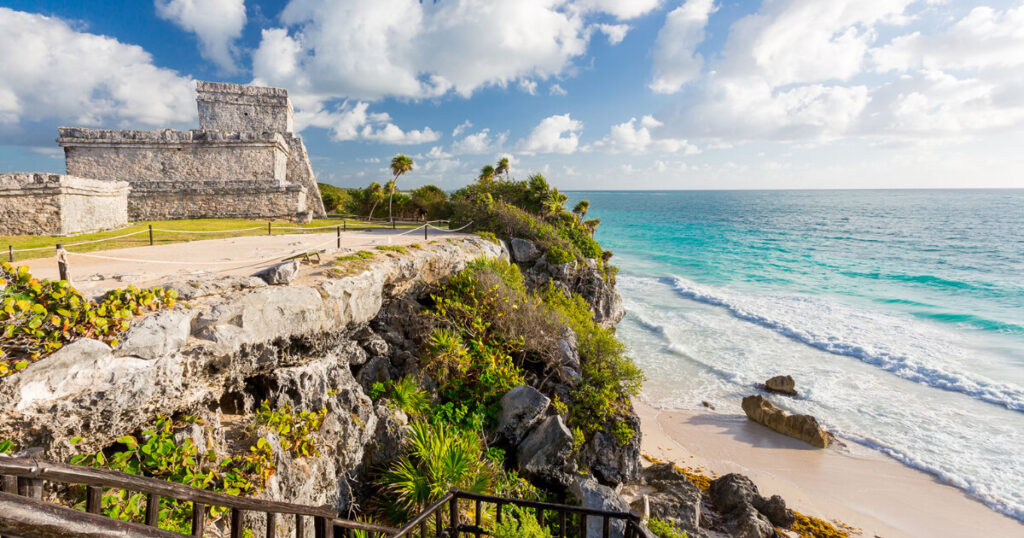 You can find this little hamlet called Tulum about an hour and a half south of Cancun, Mexico's Caribbean coast. This pueblo, or small town, is small enough for anyone to walk around and take in the sights easily. Since the roads are flat, they are excellent for strolling and even for biking. Although the area's taxi rates are reasonable, tourists can negotiate a deal with the driver before boarding the cab. Although the town has undergone significant expansion over the past few years, the area continues to be a tranquil, unspoiled, and calm village. The town is surrounded by lush tropical jungles, and its seaside area has some beautiful hotels. There are several dining, shopping, and bar options in the town of Tulum. This town is truly beautiful and one of the safest places to travel in Mexico.
Cancun City
If you want a beach vacation, Cancun is a great destination for your Mexico vacation. Because this city is famous for its wonderful beaches, warm, clear waters, and a wide variety of tourist amenities. Since its development in the 1970s, Cancun has grown to become Mexico's most popular city. This beautiful place offers something for all travelers, young and old, on a budget or looking for a more upscale vacation. Cancun is split into two distinct areas: Cancun Island and the Cancun City neighborhood (Tourist Zone).
Connected by two bridges to the mainland, The main tourist area of Cancun, is on the 8-mile Yucatan Peninsula in the Caribbean Sea. You can find beautiful soft sand beaches all along the peninsula's coast, with the nicest ones being in the north. Despite the fact that Cancun is a fairly busy resort, you can always locate a quiet beach thanks to the area's enormous coastline. The amenities at Cancun's beaches are unique. And there is a huge selection of hotels—many of which are right on the water offering a wide range of diverse lodging and dining options. Trust me, Cancun city is one of the most popular and safest places to travel in Mexico.
Best Things about Cancun City
Scuba diving, snorkeling, jet-skiing, windsurfing, parasailing, and fishing are all popular water sports in Cancun.
Many golf clubs in Cancun have beautiful settings and are regarded as some of Mexico's top courses. These clubs also provide excellent dining restaurants, spas, and health clubs in scenic settings.
Cancun is famous for its nonstop party destination. And provides a wide range of entertainment options, including nightclubs, discos, traditional Mexican bars, more sedate piano bars, cabaret, and beach bars. Ballet as well as traditional Mexican music and entertainment are available for more cultured evenings.
The resort has an almost limitless selection of eateries, serving everything from quick food to traditional Yucatan cuisine.
Shoppers will not disappoint as Cancun offers more than twenty 'American-style' shopping malls and no end of traditional marketplaces selling everything from duty-free perfume to designer apparel to locally created handicrafts.
San Cristobal de las Casas Town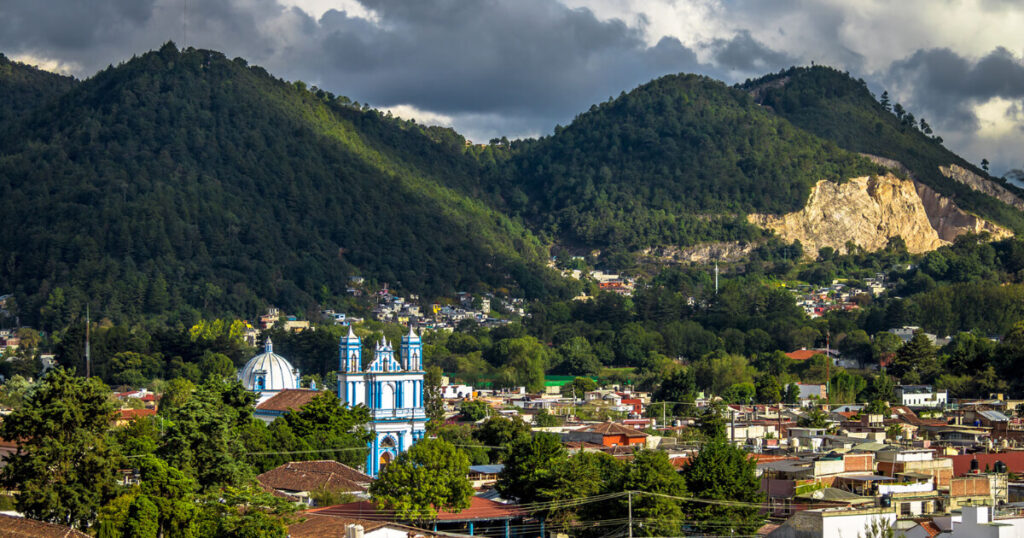 San Cristobal de las Casas, In the state of Chiapas, is 6890 feet above sea level and situated in a stunningly secluded highland jungle environment. It is one of the most distinctive and popular colonial city attractions in Mexico. San Cristobal de las Casas is famous for its high altitude, natural, and rough jungle setting, which is full of indigenous life and culture. The original residents still go about their daily lives following their customs and rituals in this extremely earthy and pristine location. There are many green valleys and canyons with luscious waterfalls, fauna, and lovely plants and flowers just waiting to be discovered because of its unique location in the high jungle.
Plaza 31 de Marzo, San Cristobal's Cathedral, Templo del Carmen, Instituto de Bellas Artes, Templo y Ex-Convento de Santo Domingo, and Templo de San Cristobal are the main attractions in San Cristobal de las Casas.
Chiapas's Tienda de Los Artesanos is a great place to find cheap domestic goods. And you must drink the local coffee, which is among the greatest locally grown in the world.
Merida City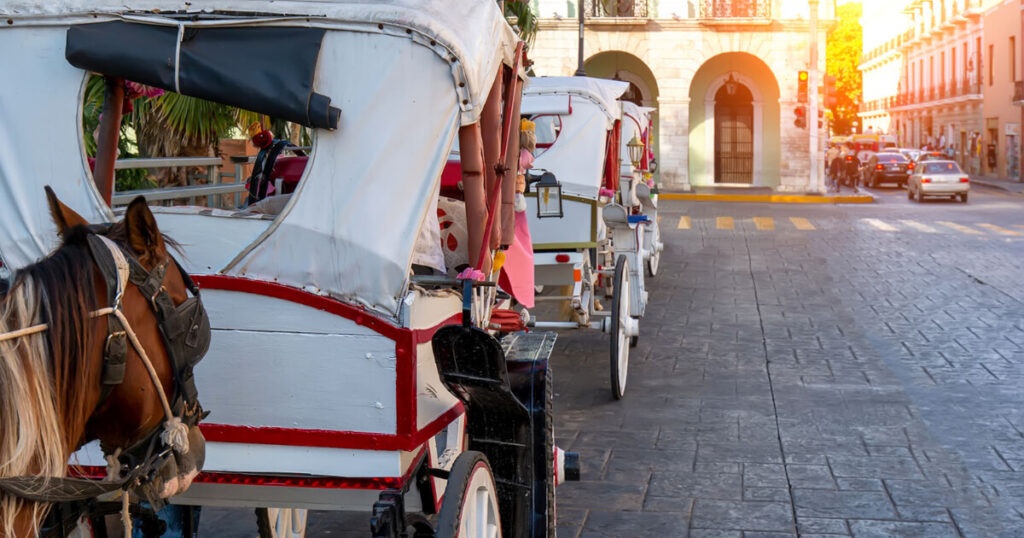 This city is the capital of the Yucatan Peninsula's capital. Merida city is awash in Mayan culture. from Yucatecan dances, traditional Mayan foods, and Mayan ruins to Native American clothing. Cathedrals with colonial Spanish influences may be found across Merida, a city rich in culture and architecture. There are excellent theatres, plazas, parks, museums, and art galleries. There is always free entertainment available in the city because it often conducts free cultural events. Get a copy of "Yucatan Today", a free monthly magazine, for the most recent information about activities in the city. It is accessible at the visitor center on the main square. Try their delicious "salbutes"; they are quite excellent. Visit the ruins at Chichen Itza and Uxmal on day tours.
Puerto Vallarta Town
South of the Baja peninsula, on Mexico's west coast, Puerto Vallarta is a lovely beach town. Puerto Vallarta offers great beaches, large waves, pleasant weather, and so many enjoyable activities on your Mexico trip.
Do you want to enjoy spending time at the beach (if you don't?, why are you in Puerto Vallarta) In deep tunnels and underwater caverns, you can participate in windsurfing, surfing, and snorkeling. You can try the perennially popular parasailing if you wish to float above the water and enjoy a spectacular view. If you want to enjoy the view around the bay, rent a kayak or jet skis.
There are many boats available for charter or rental that can take you out to the hot locations in the 24-mile-wide Banderas Bay if fishing is your thing. At some seasons of the year, if you are lucky, you can get offers of humpback whale viewing cruises. There are plenty of golf courses to keep you occupied if land-based activities are more your style; there are actually seven in all.
In addition to horseback riding, canopy tours over the rainforest, various tennis clubs with a variety of surfaces and schools, and ATV or bicycle trip through the back roads and jungles, bird watching, with hundreds of species of birds calling Puerto Vallarta home, is a more leisurely activity. Indeed, This place is a paradise for adventure lovers and one of the safest places to travel in Mexico.
Isla Mujeres Island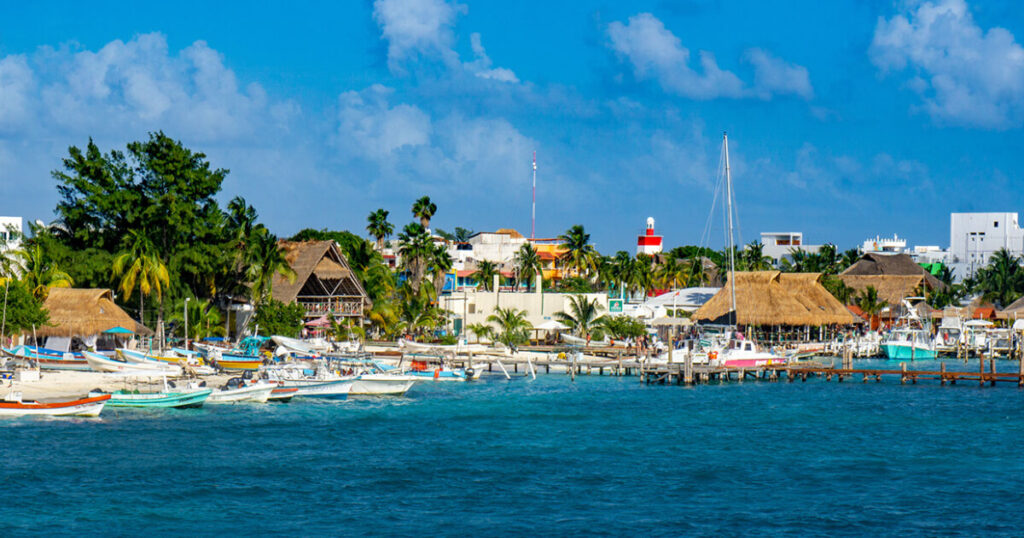 One of the most popular travel destinations for visitors to the Cancun region of Mexico is Isla Mujeres. For those who want to escape Cancun's crowded beaches, this island is an excellent option. After getting off the ferry, you won't need to travel very far to understand that the experience you will have here is significantly different. The island is small and desolate in its interior. But you may still locate saltwater marshes where the Mayans originally obtained their salt.
The Island's primary source of income is tourism. Hey, even if this location is among the most peaceful in Mexico, it is also close to a busy location. The vast majority of visitors arrive on day trips from Cancun via boats. They occasionally cause some congestion in the downtown area. But, if you are staying on the Island, you are in luck. Because they start arriving at 10 AM and finishing up by 4 PM.
Isla Mujeres is the best and safest island for relaxation. This place is also a paradise for divers and snorkeling lovers. Playa Norte, Playa Paraiso, and Playa Indios are the most popular beaches on Isla Mujeres island in Mexico. And if you don't know, let me tell you that Playa Norte is one of the best beaches in the world.
Cabo San Lucas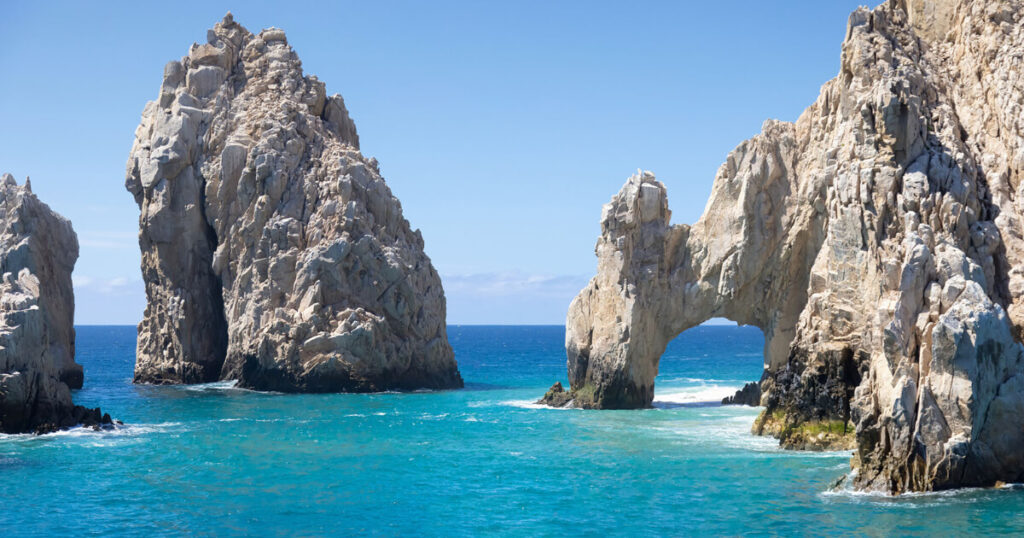 The shorthand for Cabo San Lucas is just Cabo. At the top end of the Baja California peninsula, it is one of the most attractive places to visit with a perfect climate and breathtaking, extraordinary scenery. For thousands of people, it is one of the top vacation and spa locations.
Cabo San Lucas is well famous for its vibrant nightlife, laid-back vibe, expansive marina, and stunning harbor where the Pacific Ocean and the Sea of Cortez meet. Along with a variety of hotels and resorts, Cabo offers wonderful shopping, dining, and beaches with a range of discounts to suit any budget. At the Land's End, there is a magnificent natural rock formation known as El Arco, a stone arch. El Medano is the primary long sandy beach, a location for swimming and watersports, as well as a number of restaurants on the sand with golf and picture-postcard views. A well-known cruise ship port, along with the Mexican Riviera. It is a well-known hideaway and Spring Break location for wealthy and famous people.
Cabo San Lucas is a must-visit destination for anyone looking for a tranquil getaway surrounded by breathtaking natural beauty. There is something to do for everyone in Baja under the sun.
The Pacific Coast
Some of the most stunning and famous beach resort areas in the nation may be found along Mexico's Pacific coast. There is something for everyone along this stretch of shore, from the popular resort town of Puerto Vallarta to the more relaxed vibe of Sayulita. The Pacific Coast is home to a variety of significant historical and cultural monuments in addition to its beautiful beaches. Because it offers everything you could possibly want from a beach vacation, Mexico's Pacific Coast is a popular tourist attraction. Enjoy the wonderful food, the rich culture, or one of the many beaches to soak up the sun.
The Gulf Coast
Along the Gulf Coast, you can find some of Mexico's most well-known tourist spots, such as Cancun, Playa del Carmen, and Cozumel. The area is notable for its calm ambiance, turquoise waters, and white sand beaches.
Travelers from the US and Europe have grown more and more accustomed to visiting the Gulf Coast in recent years. Although it is typically safe to travel there, there are a few things to be wary of.
The Gulf Coast has a low crime rate, however small crimes like pickpocketing and handbag snatching are frequent in crowded places. It is critical to pay attention to your surroundings and safeguard your possessions.
The Gulf Coast is also vulnerable to hurricanes and tropical storms. The hurricane season runs from June to November, so travelers should check the weather forecast before planning a trip.
Despite these risks, the Gulf Coast remains a popular destination for tourists looking to escape the crowds and experience Mexico's natural beauty.
The Yucatan Peninsula
One of the most scenic and safest places to travel in Mexico is the Yucatan Peninsula. It has some of the nicest beaches in the nation as well as historic villages and ruins.
The peninsula also holds the largest collection of Mayan ruins in the entire world, including the popular Chichen Itza. The seaside resort of Playa del Carmen and the island of Cozumel are a couple of other famous vacation spots.
Despite the fact that the majority of tourists to the Yucatan Peninsula have a safe and pleasurable time there, it is necessary to be aware of the risks involved in visiting any foreign nation. When visiting a new place, travelers should always use care.
Central Mexico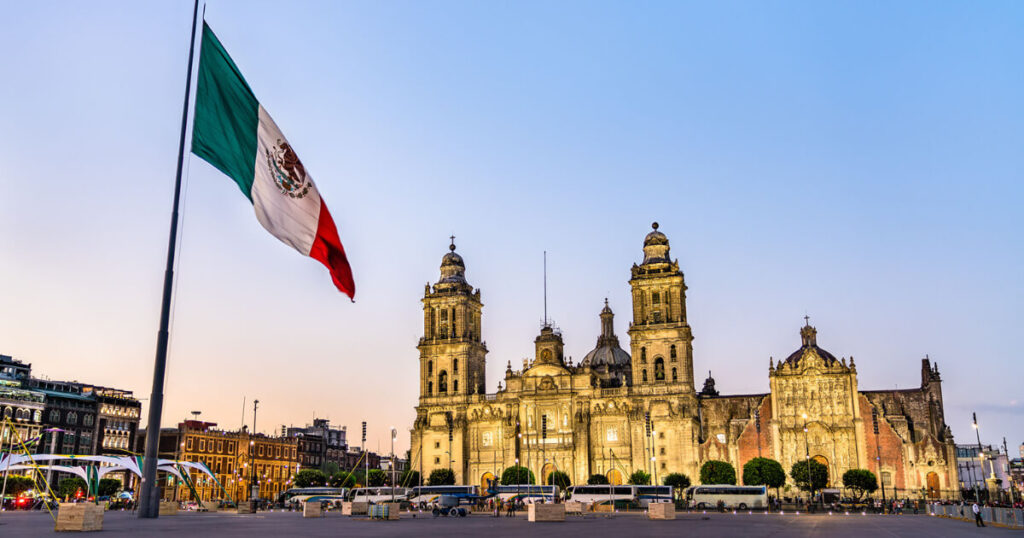 The country of Mexico's central area is only one of many secure and stunning locations to travel to. Some of Mexico's most well-known tourist spots are located in this region, including the colonial city of Guanajuato and the nation's capital, Mexico City. Additionally, travelers can enjoy the Central Valley's lush vegetation and the breathtaking backdrop of the Sierra Madre mountains.
Copper Canyon
The Copper Canyon is a collection of six separate canyons in the Mexican state of Chihuahua that, when combined, are deeper than the Grand Canyon in the United States. Six rivers that pass through the canyons and pour into the Gulf of California are responsible for their formation. Several indigenous groups, like the Tarahumara, who are famous for their long-distance running skills, call the Copper Canyon region home. Tourists who come to the area to walk, camp, and raft in the canyons also attract to it.
Guadalajara City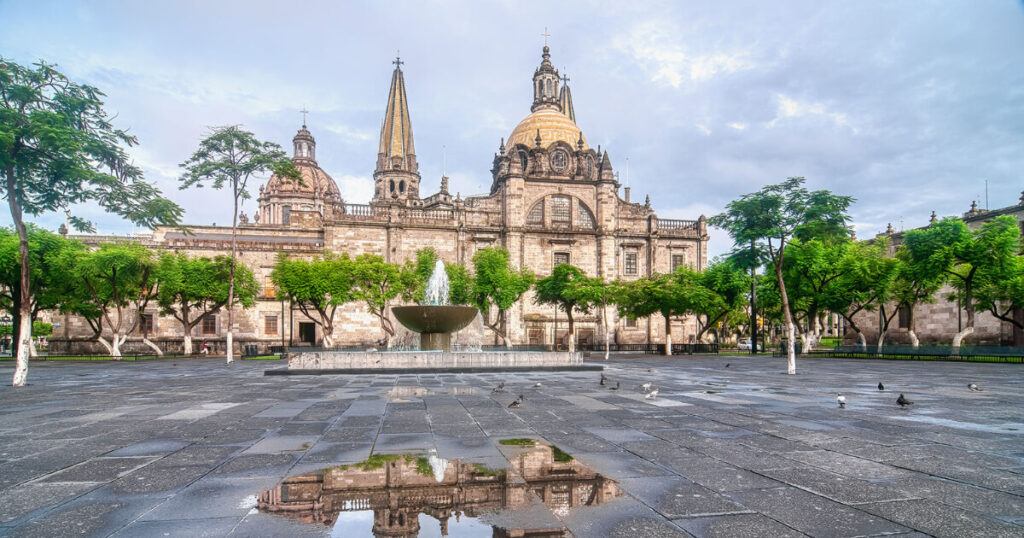 The state of Jalisco's capital is Guadalajara. Despite being the second-largest city in Mexico, it is a highly hospitable and attractive region of the nation. The culture in this part of Mexico is very rich; tequila, mariachi music, and even sombreros are all creations of this region. Along with the skyscrapers, this modern metropolis also has a historic center (Centro Historico) with grand old buildings, horse-drawn carriages, and expansive green spaces.
Guadalajara has a very warm climate, and the days are often pleasant all year long. The year-round temperature ranges from lows of approximately 68 degrees F to summertime highs of about 92 degrees F.
With the third-largest economy and industrial infrastructure in Mexico, Guadalajara is responsible for 37% of the state's total gross domestic product. Despite having a broad economy, more than 60% of the city's workforce is employed in business and tourism. There is a large manufacturing industry in Guadalajara, and between 1995 and 2003, the gross value of exports increased by three times.
If you are a shopping lover, Make sure to block off some time so you can shop until you drop. Guadalajara's downtown is a haven for shoppers. Bohemian Mexican clothes, leather products, jewelry, Mexican home decor, and expensive delicacies are all available here. These goods are all available for affordable costs. You can even try to bargain with merchants to get an even better price on souvenirs and other items if you or someone you know is strong enough to do so!
Make Guadalajara, Mexico vacations the next destination on your list of places to visit because this magnificent city is unquestionably a jewel of Mexico and a "must do."
Mexico City
Last but not least, it is Mexico City. With nearly 21 million residents in the metro region, Mexico City is one of the most populous cities in the world. With over 35 million visitors a year, it is also one of the most well-liked tourist locations. The city has a lot to offer, from its contemporary skyline and lively streets to its rich history and culture.
However, there are a few things to remember when in Mexico City. The first is that it is critical to pay attention to your surroundings and take security measures to prevent crime. The city can be rather busy and packed, therefore it is crucial to properly arrange your agenda.
Despite these issues, Mexico City is still stunning and one of the safest places to travel in Mexico. There are several things to keep you busy, including parks, markets, historical sites, and museums. In addition, the city offers fantastic dining and entertainment options. Mexico City needs to be on your list, whether you are seeking culture or just a fun destination to explore.
Conclusion
Now honestly reply in the comment box, is Mexico one of the unsafe places to travel? I know that now Mexico will probably be a fun and safest place for you. And maybe now you will also include it in your bucket list. It is very true that Mexico is a land of stunning natural beauty and rich cultural traditions. There are many safe and beautiful places to visit in Mexico. So don't let fears of safety stop you from enjoying all that this country has to offer. Trust me, If you travel to Mexico with some precautions then it is like a paradise. So, change your thinking about Mexico, and make a plan to travel to these safest places in Mexico.
Have a nice and safe trip to beautiful Mexico!
Hey there! I'm Kartik. I am a finance professional and a travel and lifestyle blogger. I am vegetarian, but I love adventuring food. Jeric and I work together to deliver high-quality content for you. Adventure the fun!