Miami (USA), Dubai (UAE), and Phuket (Thailand) are the most exotic locations that come to mind when thinking about vacations. But what if someone tells you to travel to Brunei? Perhaps you will bow down your eyebrows and will ask the first question where is it? You may also know where is it, but not more than it. Now no need to go to your browser and search about Brunei. Because in this article I have written about all which will help you to plan for your Brunei trip. And I am sure that end of this article you will definitely add this place to your bucket list. So, stay tuned!
Travel to Brunei – Ultimate Guide
Brunei or Brunei Darussalam is a small country located on the north coast of the island of Borneo, in South East Asia. It has a population of about 450,000 people and is the only sovereign state on the island that is entirely surrounded by Malaysia.
Brunei has a rich culture and is famous for its beautiful Islamic architecture, as well as its stunning natural environment. With its lush rainforests, pristine beaches, and beautiful coral reefs, Brunei is a paradise for nature lovers. The Sultan of Brunei, one of the richest men in the world, resides in the nation as well.
Brunei has a strong economy, with a GDP of over $14.50 billion, and is one of the most prosperous nations in the region. This country is also a member of the World Trade Organisation and is a major exporter of oil and natural gas. Brunei is a great place to visit. It offers a unique mix of culture and nature that you will not find anywhere else.
Visa Policy to Travel to Brunei
The majority of people, particularly those from the EU, the UK, the USA, and most Asian nations, are welcome in the kingdom with visa exemptions for 14/30/90 days. Australia, Bahrain, Saudi Arabia, Taiwan, Kuwait, China, and Qatar are seven nations that can get visas on arrival for just BND20.
Click on the below links for more details about the Visa policy to travel to Brunei:
Best Time to Visit Brunei
When the weather is dry and cooler, between March and October is the ideal time to visit Brunei. This time of year is often between 27 and 30 degrees Celsius, which is ideal for traveling and experiencing the nation. With temperatures as high as 32°C, December and January can be quite humid. June and July are the best months to travel to Brunei if you want to go there during the rainy season because there won't be much rain. No matter when you travel to Brunei, you will have a great day because Brunei is home to many stunning sites and hospitable people.
Packing Tips to Travel to Brunei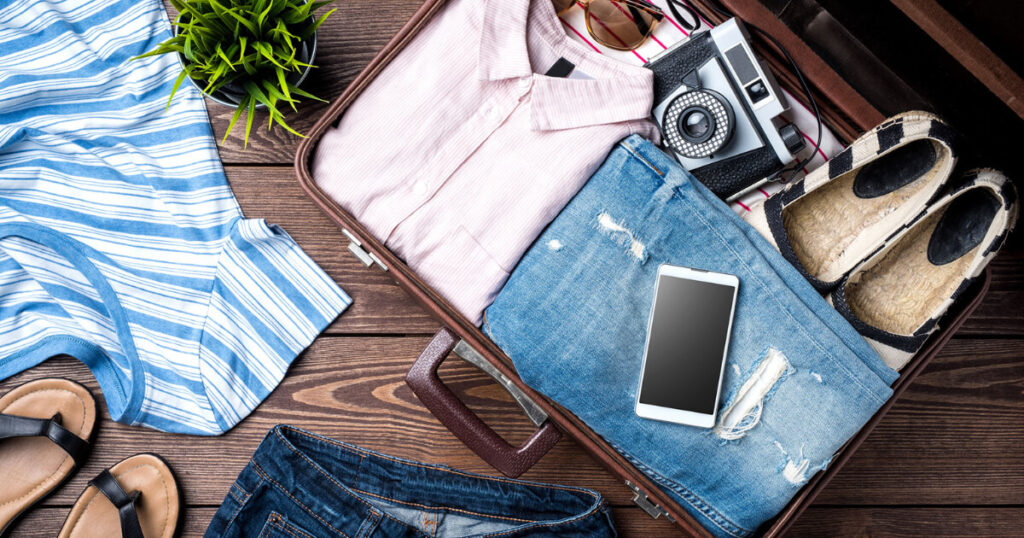 Brunei Darussalam packing may be both a thrilling and challenging activity. Here are some tips to help you prepare for your Brunei trip:
Pack Light: You don't need to bring heavy winter clothing because Brunei Darussalam has a tropical climate. If you are planning to travel in the winter, think about packing a lightweight jacket or sweater.
Bring Comfortable Shoes: You will be doing a lot of walking in Brunei Darussalam, so pack some comfy shoes you can wear every day.
Pack a few Dressy Items: Make sure you include a few dressy clothes, like a light jacket and pants for special occasions, as Brunei Darussalam has a very conservative dress code.
Pack a Travel Hat: The sun can be quite strong in Brunei Darussalam. So make sure you bring along a travel hat to protect your head from the sun's rays.
Take a Lightweight Raincoat: Even though Brunei Darussalam has sunshine most of the time, it does occasionally rain. Be sure you have a lightweight raincoat or umbrella handy.
Bring Water and a Supply of Food: Although Brunei Darussalam boasts some top-notch eateries, you might want to pack some snacks and bottled water (especially when you are traveling with kids) to stay hydrated throughout your vacation.
How to Reach Brunei
Brunei Darussalam is easily accessible and convenient. You can travel there by airplane, boat or car.
Flights: With frequent flights from Singapore, Manila, Bangkok, Jakarta, Kuala Lumpur, and other surrounding places, Brunei International Airport serves as the primary entry point for tourists into the nation.
By Boat: From the neighboring nations of Malaysia and Indonesia, you can take a ferry to Brunei Darussalam.
By Car: From Brunei Darussalam's neighboring nations, you can drive there. The rest of Southeast Asia is accessible to Brunei by a number of highway and road networks.
Whichever method you choose to reach, you will be sure to enjoy your time in Brunei Darussalam!
How to Get Around Brunei
Taxis are available at the international airport using a coupon. Uber-styled transportation known as "DART" is also in abundance for those who prefer to travel on a budget. Just download the app, and then pick your ride to the destination desired. Be aware of taxi drivers asking for hefty fees! Negotiate the best deal and then pay for the ride. Buses can be found along the capital's main routes and going to other districts including services to the Malaysian border towns of Limbang and Miri, Sarawak. For more details to get around Brunei – Click Here.
Best Places to Visit in Brunei
Brunei offers everything that makes your vacation better whether you are alone, with kids, or with your loved one. Here I listed some best places you should not miss when you are in Brunei.
Labi Hills
A region called Labi Hills is situated in Brunei's Tutong District. It is next to one of Brunei's biggest wetlands, Tasek Merimbun Heritage Park. It is famous for its diverse range of flora and wildlife as well as its lush and stunning sceneries. Tasek Merimbun Heritage Park, which is close by, is a fantastic spot to explore and take in the local fauna. Along with these activities, Labi Hills also provides camping, hiking, birdwatching, and horseback riding. It is a fantastic location for admiring the spectacular views of the nearby rainforest and its numerous waterfalls.
Ulu Temburong National Park
Explore the lovely and interesting Temburong National Park in Brunei. It supports a diverse range of plants and animals, including critically endangered ones like the Bornean orangutan, the Proboscis monkey, and the Giant Asian Pond Turtle. The park also has some of the most beautiful natural features in the nation, such as lush jungles, pristine lakes, and breathtaking waterfalls. The park offers a variety of enjoyable activities, including hiking, bird viewing, and exploring the many caverns and cenotes. You may even take a boat trip to the park to see some of the local wildlife if you are feeling very daring. Whatever you choose to do, Temburong National Park will undoubtedly be a fantastic experience.
The Sultan Omar Ali Saifuddien Mosque
In Brunei, there is a stunning mosque called the Sultan Omar Ali Saifuddien Mosque. It is one of the most significant religious structures in the nation and a spectacular example of architecture. It was constructed in 1958 and given the name of Brunei's 28th Sultan. In contrast to the nearby structures, its golden dome shines out, and its exquisite design is stunning. The mosque welcomes guests and is an excellent location to learn about Bruneian tradition and history.
Kampong Ayer Village
Off the coast of Brunei, there lies a wonderful water town called Kampong Ayer. The largest water community in the world, it has over 40,000 inhabitants. A system of canals and bridges connects the village's more than 4,000 buildings. Many of the structures house restaurants, stores, and even mosques, making them a distinctive and lively aspect of Bruneian culture. It is a pleasure to travel there and discover Kampong Ayer, and you will undoubtedly have a remarkable time.
Jerudong Park
In Brunei, there is a theme park called Jerudong Park. For visitors of all ages, it offers a variety of rides, activities, and entertainment. It is the biggest theme park in Southeast Asia and is famous for its distinctive fusion of historical and contemporary attractions. Along with the rides, Jerudong Park offers a range of unique dining establishments, a retail district, and a lake with a number of water sports. Jerudong Park is unquestionably worthwhile to check out if you are seeking a fun, thrilling day out with the family.
Royal Regalia Museum
The museum is a fantastic resource for learning about the monarchy's history. Important artifacts, including scepters and crowns, as well as other items connected to the monarchy are kept in the museum. Additionally, there are intriguing exhibitions and interactive displays. Make sure to check the museum's website for the most up-to-date details on hours and admission costs. You will no doubt enjoy yourself immensely while discovering all the intriguing objects the museum has to offer.
Gadong & Kiulap Shopping Areas
One of the most popular shopping districts in Brunei Darussalam is Gadong, while the other is Kiulap. Gadong is famous for having a huge selection of retailers and shops, from supermarkets and food outlets to electronics and clothes stores. Kiulap, on the other hand, provides a more leisurely shopping experience with its variety of boutiques and specialized shops, in addition to its many cafes and restaurants. Additionally, both regions provide a variety of entertainment alternatives, including theatres and arcades. Additionally, there are numerous banks and ATMs in both locations, making it simple to access money while shopping.
There is the thriving nightlife in Brunei Darussalam's commercial districts, with several bars and clubs situated in both Gadong and Kiulap. There are also several live music venues and karaoke bars, offering a great night out in the city.
Overall, Brunei Darussalam's shopping districts of Gadong and Kiulap provide a wonderful shopping experience with something for everyone. These two areas provide everything, whether you are seeking electronics, unusual stuff, or a night out on the town.
Pasar Malam Gadong
One of the most well-liked night markets in Brunei is Pasar Malam Gadong. It provides a vast variety of delicious foods, distinctive regional goods, and fun family activities. The environment is usually active and rich in regional culture. The ideal location to buy, eat, and enjoy yourself with friends and family is Pasar Malam Gadong.
So, there are so many places in Brunei where you can have fun, explore the Bruneian culture and fulfill your shopping passion. But here I want to advise you that before buying anything on your trip, you should also know what not to buy while traveling.
Best Food You Must Try in Brunei
The cuisine of Brunei Darussalam is incredibly varied, offering a variety of tastes and delicacies to try. Here are some of Brunei Darussalam's top dishes that you must try on your Brunei trip.
Ambuyat: Usually served with a variety of sauces and condiments, this sticky dish is made from the sago palm. This is also a national dish of Brunei.
Kueh Salat: This delicious snack is often shaped into a round ball and prepared from glutinous rice flour, coconut milk, and pandan leaves.
Nasi Katok: This is a popular street food dish in Brunei consisting of steamed white rice serves with a spicy paste, fried anchovies, and an egg.
Nasi Lemak: This dish, which is typically served with a variety of side dishes such as fried anchovies, boiled eggs, and cucumber slices, is cooked with coconut milk and spices.
Ayam Panggang Taliwang: It is a grilled chicken dish marinated with spicy chutney and served with a variety of vegetables.
Satay: The main ingredient of the popular meal satay is marinated meat, typically chicken or beef, which is then grilled and served with a selection of sauces.
Mee Soto: This rich and flavorful broth-based noodle meal typically serves with boiled eggs, potatoes, and bean sprouts.
Kueh Dadar: Sugar, grated coconut, and pandan leaves are used to make this dessert.
Pulut Panggang: The traditional dessert is prepared with glutinous rice, coconut milk, and banana leaves. A sweet sauce is typically offered with it.
Something More about Foods and Beverages
Islam is the official religion of Brunei. And there are two types of food in Islam – HALAL food and Non-HALAL food. Halal food is food that Muslims can eat according to various verses in the Quran. And Non-HALAL food is food that Muslims can not eat according to Quran like pork or ham etc. But, when you are in Brunei and want to eat Non-HALAL food, it is easily available in supermarkets.
In Brunei, alcohol, and smoking have been banned since 1991 and 2014 respectively. Those who choose to drink alcohol in the kingdom may do so in accordance with certain legal guidelines.
In Brunei, all kinds of cuisine starting with local Malay delicacies mixed with Malaysian and Indonesian flavors are abundantly available throughout the state.
No worries about some other countries' food dishes. In Brunei, you can easily find Chinese, Indian, Korean, Japanese, Western, and even Nepalese/Gurkha dishes in food courts, street vendors, restaurants, and cafes.
You can also enjoy the food of KFC, Mcdonalds, Pizzahut, and other international brands like Secret Recipe, Auntie Anne's Pretzels, coffee bean, dairy queen, and Ayam Penyet in the capital and other towns in Brunei.
Etiquette Tips for The Brunei Trip
Every country has its own different way of living and it is very important to know it before going on your journey. Here I have given some etiquette tips that you should know before visiting Brunei.
In Brunei, greetings are crucial, so it is polite to greet people with a handshake and a warm smile.
It is polite to remove your shoes before entering someone's home.
When welcomed to someone's home, it is customary to bring a small gift.
It is important to dress conservatively in Brunei.
When dining with locals, it is polite to hold off until the oldest person starts their meal.
It is polite to finish everything on your plate. It is rude to leave food on your plate in Brunei.
In Brunei, do not show affection in public.
In Brunei, alcohol is not easily accessible. Public drinking is not permitted.
It is crucial to dress modestly and observe strict etiquette guidelines when visiting a mosque.
Important Travel Tips for Brunei
Carry cash: In Brunei, you can use your credit card in some places. But it is best to carry a small amount of cash with you.
Always be ready for Humidity: Bring light, breathable clothing because Brunei's humidity can be fairly high.
Don't forget your insect repellent: Mosquitoes and other insects can be an issue in Brunei, so be sure to bring insect repellent with you.
Learn a few Malay words: Knowing a few phrases in Malay can go a long way in helping you communicate with the locals.
Utilize the free attractions: There are many free attractions in Brunei, such as mosques, museums, and parks, that you can explore.
Visit the water villages: Brunei's water villages are a unique experience that you should definitely not ignore.
Do not forget the travel adapter: Bring an adapter with you because Brunei uses the Type G plug.
Be mindful of your safety: Brunei is not on the list of unsafe countries to travel to. But, it's nevertheless advisable to pay attention to your surroundings.
Enjoy the Bruneian culture: Brunei has a rich culture and history, so take time to explore and appreciate it.
Conclusion
With a low crime rate, less corruption, and affordable living no wonder it is referred to as "The Abode of Peace" among the locals and governed by a wise king.
Brunei is an incredible destination to explore. With its rich culture & history, stunning natural beauty, adventurous outdoors, and friendly people, there is something for everyone in this fascinating country. So get ready to make memories and explore the wonders of Brunei!
Hey there! I'm Kartik. I am a finance professional and a travel and lifestyle blogger. I am vegetarian, but I love adventuring food. Jeric and I work together to deliver high-quality content for you. Adventure the fun!