If you are planning to travel to Italy, then, of course, you must be thinking of Venice too. If not then I say with 100% confidence that if you come back home after completing your trip to Italy, then your friends and relatives will be the first to ask about Venice. Because Venice in Italy is one of the most fascinating and charming cities in all of Europe. Venice ("Venezia" in Italian), which is spread across more than 100 islands in the Venetian Lagoon, is famous for its rich and unique culture. The city, also known as the "City of Water," is popular for the beauty of the waterways that surround it. In Venice, they are as common as streets are in New York City.
But, Planning to travel to Venice, Italy is a bit complicated. Because you are going to travel in a city that floats on water. And, sometimes travelers get confused about where to start planning their trip to Venice. But, do not worry, Here are some top tips that will help you to make your plan to travel to Venice more easily and perfectly.
Travel to Venice, Italy – Ultimate Guide
The northeastern Italian city of Venice is on a collection of 118 little islands that are connected by bridges and divided by canals. The marshy Venetian Lagoon, which stretches along the shoreline between the Po and Piave River mouths, is where it is situated. Venice is well famous for the splendor of its landscape, architecture, and artwork. Along with its lagoon, Venice city is also one of the World Heritage Sites in Italy.
The name comes from the ancient Veneti people who were in the area by the 10th century BC. Historically, the city served as the capital of the Republic of Venice. Venice has also many nicknames like "La Dominante," "Serenissima," "Queen of the Adriatic," "The City of Water," "City of Bridges," "City of Masks," "City of Canals" and "The Floating City." In The New York Times, Luigi Barzini called it "undoubtedly the most magnificent city built by man."
Venice has a long history of symphonic and operatic music, and it is home to many great composers, performers, and venues. The city also attracts visitors with its numerous museums, churches, palaces, and piazzas.
Best Time to Visit Venice, Italy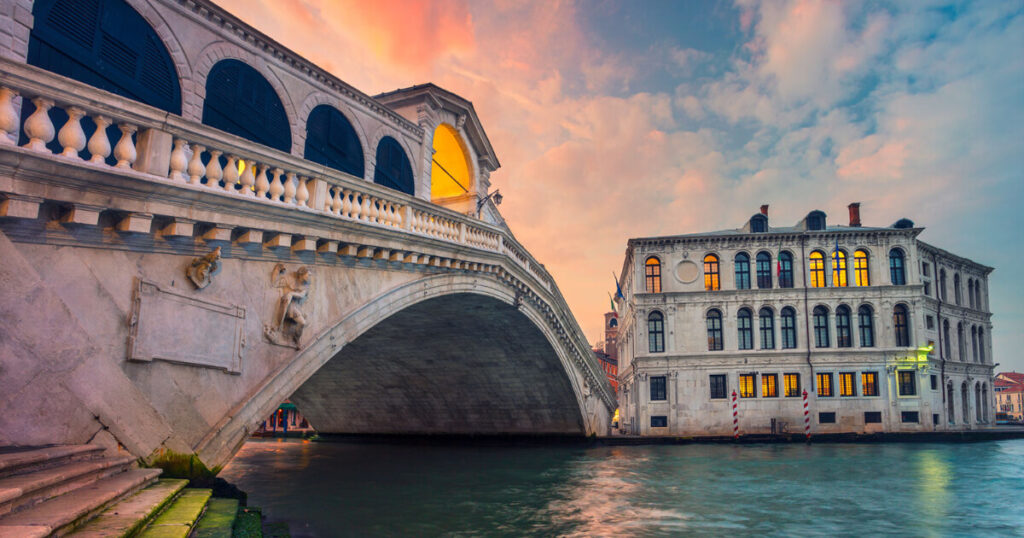 The city experiences warm summers and cold winters due to its Mediterranean environment. The coldest month is January, which has an average temperature of 5 °C (41 °F). With an average temperature of 27 °C (81 °F), July is the hottest month.
The best months to visit Venice are April through June because of the moderate and beautiful weather. The city is less crowded than in the high season, making it a fantastic opportunity to explore Venice's various canals and attractions. Consider going to Venice in the fall, from September to November, if you are searching for a deal. There will be fewer tourists and cheaper hotel and restaurant rates. In Venice, the off-season runs from December through March, when it is chilly and rainy. Check opening days and hours before your travel because many businesses close during this time.
What to Pack for a Trip to Venice, Italy
The most important part of traveling anywhere is packing. While packing, you also have to take care of many things so that you do not forget some important things. However, the most important thing in packing is the weather of your destination. But do not worry, here is a list of the answers to your questions.
no matter what time of year you are going to travel to Venice, Italy, these are the must-have items to pack for a Venice, Italy trip!
A great Venice, Italy guidebook (I recommend Venice & the Veneto city guide- Lonely Planet)
Comfortable walking shoes – Trust me, you will do a lot of walking!
An umbrella – Because it rains a lot in Venice!
A raincoat or poncho
A day bag or backpack – something small that you can easily carry around with you
A scarf or shawl – to keep warm in the evening
A hat or other head covering – to protect you from the sun or rain
Sunglasses
Sunscreen
Bug spray – You will surprise but mosquitoes can be a problem in Venice!
Your camera and extra batteries/memory cards
An adapter and/or converter if you are coming from outside of Europe
Always add a first aid kit including any prescription medications you take
How to Get Around Venice, Italy
Venice is unlike any other city in the world in terms of transportation. There are approximately 150 canals and 400 bridges, so you can only travel by boat or on foot. Even though it could take some getting used to, if you figure it out, it is really not that difficult.
The Vaporetto, a water bus that travels around the canals of the city, is the primary mode of public transit in Venice. There are also gondolas, which are classic Venetian boats that you can take on rent for a romantic journey around the canals or for use as a mode of transportation. While planning to travel to Venice, Italy, never avoid gondolas ride. Because, believe me, without a gondola ride, your Venice trip will be incomplete.
It is important to note that Venice does not permit cars, bikes, or scooters. This means that the only two modes of transportation are on foot or via boat. The greatest way to see Venice is actually by foot since you can explore all the tiny lanes and streets that a boat would pass by.
What to See on Your Trip to Venice, Italy
There are countless things to do and see in Venice, Italy. Venice, one of the most distinctive and charming places in the world, ought to be on everyone's travel bucket list.
Venice offers something for everyone, whether you want to learn more about the city's interesting history, admire its magnificent architecture, or just eat and drink some of Italy's best.
I have put together a list of Venice's top attractions to help you make the most of your stay time in this incredible city.
The Grand Canel
One of the most famous sites in the city is the Grand Canal, which serves as Venice's primary waterway. Enjoy the stunning structures that border the canal as you stroll along its banks.
Dog's Palace
The former home of Venice's governing doges and a must-see for history buffs (chief magistrates). It now serves as a museum, displaying some of the best examples of Venetian art.
St. Mark's Square
The Bell Tower of St. Mark and St. Mark's Basilica are two of the city's most recognizable monuments, making St. Mark's Square one of Venice's most visited tourist destinations.
The Rialto Bridge
The Rialto Bridge, one of Venice's four Grand Canal bridges, is an iconic landmark in the city. Don't forget to visit and take a picture with this famous bridge in the background!
The Venetian Ghetto
The Ghetto in Venice The Venetian Ghetto, a significant chapter in Jewish history, was created in 1516 as a place where Jews were compelled to dwell. It is now the center of a vibrant Jewish community and is well worth a trip only for its historical significance.
The Basilica di Santa Maria Della Salute
Often referred to simply as "La Salute", this beautiful basilica is one of Venice's most beloved churches. Built-in thanks for deliverance from a deadly plague outbreak in 1630, it is now one of the symbols of Venice internationally known as "The Bride of the Sea". You can admire its impressive baroque architecture from across the Grand Canal or pay a visit inside to see its stunning interior decorated with works by some of Italy's greatest artists including Titian and Tintoretto. Just remember to dress modestly if you plan on going inside.
What to Eat while Travel to Venice, Italy
Venice is famous for its canals, gondolas, and stunning architecture – but the food is definitely worth a visit too. There is something for everyone to eat in Venice, from classic Venetian specialties like Cicchetti (Venetian tapas) and Risotto Alla Tastevin to more modern Italian cuisine. A spritz (or two) is obviously a must-have on any vacation to Venice.
Therefore, when you are in Venice, never miss the food of this beautiful city. The following are some of the top foods to eat in Venice:
Spritz
A spritz is a refreshing alcoholic drink that consists of prosecco, Aperol (or another bitter liqueur), and sparkling water. A slice of orange is sometimes added as a garnish. The spritz is traditionally served as an aperitivo (before-dinner drink) in Venice.
Cicchetti – Venetian Tapas
Cicchetti is small plates of food that are traditionally served in bars as a snack or light meal. It can be sweet or savory and typically consist of meat, fish, or vegetables. Some popular Cicchetti dishes include baccalà mantecato (creamed codfish spread), polpette (meatballs), and crostini with various toppings.
Risotto alla Tastevin
Risotto Alla Tastevin is a creamy risotto dish that is made with red wine and finished with grated Parmesan cheese. This dish is named after the small town of Tastevin in the Veneto region, where it originated.
Where to Eat in Venice, Italy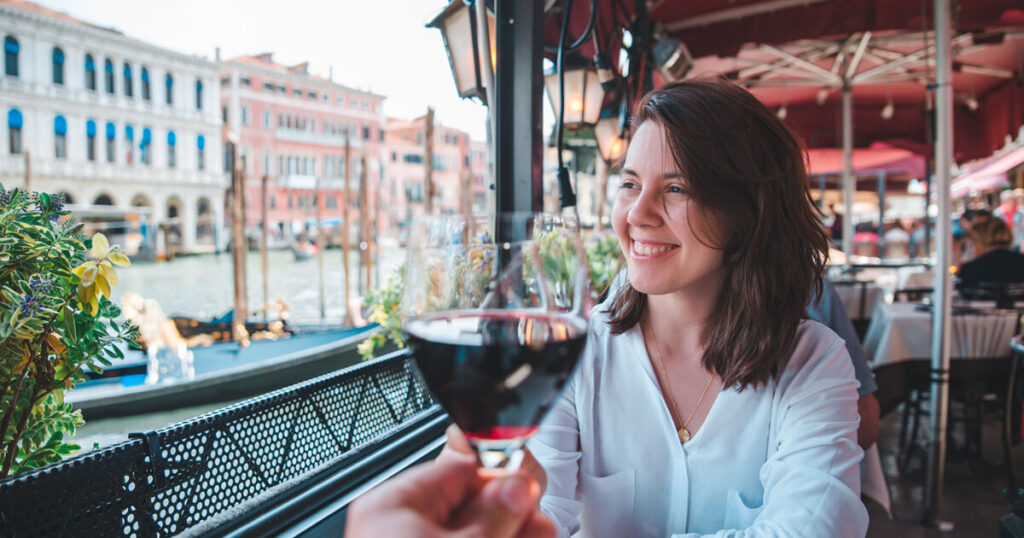 There are plenty of great places to eat in Venice, but here are a few of my favorites.
Antiche Carampane: This restaurant specializes in traditional Venetian cuisine like Cicchetti and Risotto Alla Tastevin. Make sure to try the seafood dishes too.
Trattoria Al Gatto Nero: This trattoria (casual Italian restaurant) serves classic Venetian dishes like bigoli in salsa (thick spaghetti-like pasta in anchovy sauce) as well as fresh seafood dishes like grilled squid.
Osteria al Ponte del Megio: This osteria (casual tavern or wine bar) is located on a bridge over one of Venice's canals. They serve simple but delicious Cicchetti like polpette and baccalà mantecato , as well as fresh seafood dishes like grilled shrimp.
Cantina do Spade: This cantina specializes in Cicchetti, with over 100 different types available! They also have a good selection of wines by the glass.
Money Saving Tips for Your Trip to Venice, Italy
Venice is a really unique city with its winding canals, stunning bridges, and old-world architecture. Even though it has a reputation for being pricey, there are a lot of ways to cut costs while traveling. We recommend the following:
Purchase a Venice City Pass: This pass includes free or discounted admission to many of the city's most popular attractions, as well as public transportation. It is a great way to save money if you plan on doing a lot of sightseeing.
Stay in an apartment or hotel outside of the main tourist areas: Venice can be quite expensive, so consider staying in one of the neighboring islands or towns. You can easily get around by water bus or train, and you will save a significant amount of money on your accommodations.
Eat like a local: Avoid tourist traps and overpriced restaurants by eating where the Venetians eat. There are plenty of great pizzerias, trattorias, and cafes serving up delicious food at reasonable prices.
Visit during the shoulder season: If you can swing it schedule your trip for the spring or fall months when prices are lower and the weather is still pleasant. You will avoid the hordes of tourists that descend on Venice during the summer months.
Conclusion
The city of Venice offers everything a visitor wants on their trip. But visitors should also keep such things in mind at the time of planning so that they can enjoy their Venice trip to the fullest. And now I give you a guarantee that if you follow these tips in planning to travel to Venice, Italy, then, of course, you will return home with a good memory from Venice.
Have a Nice Trip to the Beautiful City in Italy – Venice City!
Hey there! I'm Kartik. I am a finance professional and a travel and lifestyle blogger. I am vegetarian, but I love adventuring food. Jeric and I work together to deliver high-quality content for you. Adventure the fun!