I bet Santorini will be your first destination whenever you are preparing for a Greece vacation. And why not? Santorini is one of the most popular tourist destinations in Greece and for many good reasons. The island is incredibly beautiful, with its white-washed houses and blue-domed churches nestled on rocky cliffs, and its amazing sunsets. Santorini's reputation as the "Island of Romance" is unsurprising. Therefore, many people believe that Santorini is only a honeymoon destination but this is not true. It is also the best place to have fun with your kids or with your family. In this article, I have covered ultimate guides to travel to Santorini that will definitely help you to make your Santorini trip easy, cheap, and more enjoyable.
Travel to Santorini – Ultimate Guide
However, Santorini is also one of the most crowded and expensive islands in Greece. If you are planning a trip, it is important to do your research and plan ahead in order to make the most of your time on the island and avoid any unnecessary stress. But you no need to worry about research and all the basic thing because this article will 100% help you to make a perfect plan for your Santorini trip.
Best Time to Visit Santorini: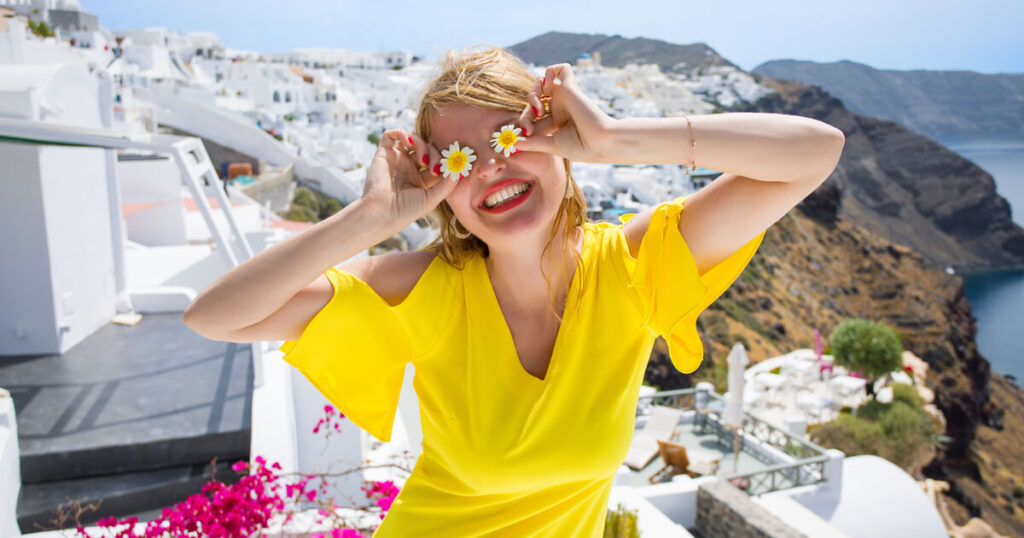 Between June and August, when temperatures are at their peak, is the busiest and most expensive period to travel to Santorini. While less crowded and with milder temps, shoulder season (April-May & September-October) can also be pleasant. Therefore, plan your Santorini trip in shoulder season if possible.
How to Reach Santorini?
Taking a flight to Santorini International Airport (JTR) is the best way to reach Santorini. The distance between Fira's main town and the airport is around 10 miles. You will have also an option to take a ferry from the port of Piraeus, which is about an 8-hour ride.
By Air
Flying is the quickest method to reach Santorini. Daily direct flights between Athens (ATH) and Santorini (JTR) take just over an hour to complete. Other Greek islands including Mykonos, Rhodes, and Crete also provide direct flights.
On Santorini, there are two airports: one in the town of Thira and the second in the Kamari village. Most travelers arrive at the Thira airport, also known as the Santorini airport. Kamari is a minor airport that mostly serves domestic and charter flights.
By Ferry
The best way to get to the island is by ferry. If you are coming from another Greek island, you can take a direct ferry. If you are coming from Athens, you will need to take a connecting ferry. The journey from Athens takes about 10 hours.
There are two main ferry companies that operate out of Athens: Hellenic Seaways and Blue Star Ferries. Both companies offer a few different ways to make the journey. You can choose between a regular ferry, a high-speed ferry, or a catamaran. The high-speed ferries are the quickest but also the most expensive option. The regular ferries take around 10 hours, and the catamarans take around 8 hours.
If you are traveling from another Greek island, the connecting ferry will likely be operated by Hellenic Seaways. They have a monopoly on the routes between the islands, so there is no competition and no choice for the ferry company.
Where to Stay in Santorini?
If I say honestly where to stay in Santorini, then it completely depends on your budget. Because Santorini has a wide range of accommodations from the guesthouse, hostel rooms, and apartments to luxurious villas with private pools. Here are some best recommendations for staying in Santorini.
Hotels in Santorini:
In Santorini, most of the hotels are located in the village of Oia, Fira, Imerovigli, and Firostefani, which provide panoramic views of the caldera. These cities make excellent starting points for touring Santorini's historical sights, beaches, vineyards, and eateries. Below are some best hotels in these beautiful towns.
In Oia:
Canaves Oia Suites is a chic hotel with an infinity pool and stunning views of the volcano.
For something truly unique, check into one of the cave houses at Petit Palace Thirassia.
In Fira:
The Avalon Hotel is a stylish option with a rooftop terrace offering panoramic views of the caldera.
The Mystique Hotel is a luxury resort with its own private beach club.
In Imerovigli:
Iakovos Village is a family-friendly hotel set in pretty gardens with excellent facilities and Caldera views.
Firostefani:
The Athermi Suites is an intimate hotel offering traditional Cycladic-style accommodation and stunning sea views.
Hostel Rooms or Guest Houses in Santorini:
If your Santorini trip is budget-friendly, then hostel rooms or guest houses are the best options for you. This is also a great option if you are going to Santorini in a group or with family. Below are some best hostel rooms or guest houses in Santorini.
The biggest advantage of a hostel room or guest house is that you will get many facilities like a kitchen, TV, fridge, washing machine, and hair dryer, along with cheap. And many hostels or guest houses also provide facilities like night movies, yoga classes, and massage and spa at your request. Click Here to find more guest houses or hostels in Santorini.
Airbnb
If you are looking for a place to stay in Santorini, Airbnb is a fantastic choice. Private rooms in traditional Greek homes are among the alternatives, in addition to apartments and villas. You can browse listings and make reservations using the Airbnb website or mobile app.
Food & Drink in Santorini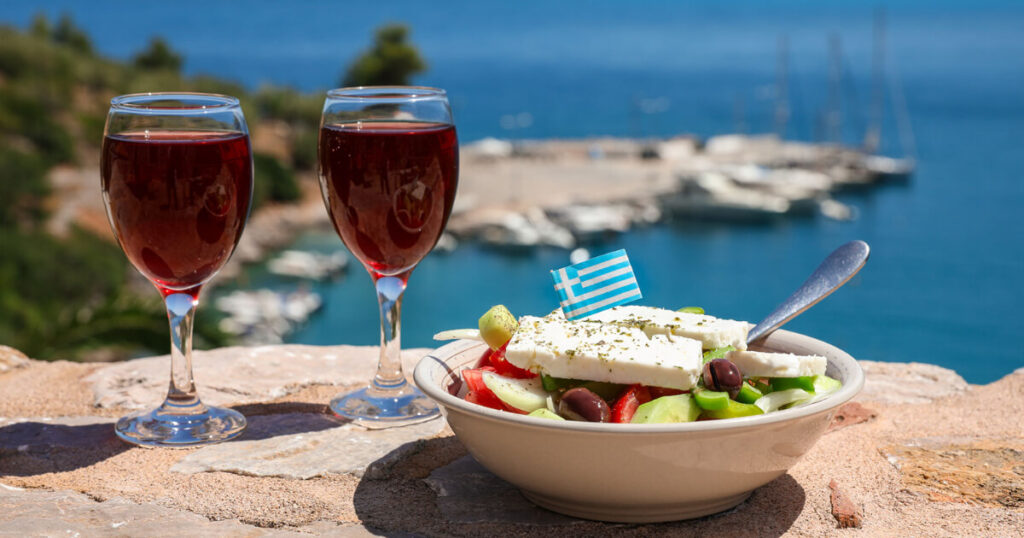 In terms of food and drink, Santorini offers a wide variety of choices. Visitors can find anything from traditional Greek dishes to more international fare. Numerous eateries and coffee shops also provide breathtaking views of the Caldera.
For those who want to experience the best of Santorini's food and drink scene, here are some tips:
Try the traditional Greek dishes: Santorini is known for its delicious traditional cuisine. Some of the must-try dishes include fava (a type of puréed yellow split pea), tomato fritters (fried balls of shredded vegetables), and dolma (stuffed vine leaves).
Visit a winery: Santorini is home to some of Greece's best wineries. Visitors can tour the facilities, learn about the wine-making process, and taste various wines.
Enjoy the views: There are many restaurants and cafes with stunning views of the Caldera. Make sure to enjoy a meal or a drink while taking in the incredible scenery.
Go for a swim: After a meal or a day of sightseeing, take a dip in one of Santorini's many beaches or pools.
Some More Santorini Travel Tips to Help You Make the Most of Your Trip:
Choose whether you want to stay in a hotel or rent a villa or apartment or hostel room/guest house. Hotels can be expensive, but they offer convenient locations and facilities like restaurants and swimming pools. Villas and apartments are usually less expensive, but they may be located further from the action.
Pick your activities wisely. Santorini offers a variety of sights and activities, so it is important to choose those that suit your interests and your budget the most. . For example, a wine tour is a great way to learn about Santorini's world-famous wines, but it is not compulsory if you are not a fan of wine.
Do not spend too much on food and beverages. Santorini has some wonderful restaurants with breathtaking views. But, food can be pricey. Stick to less expensive options like Tavernas (regional Greek eateries) or Gyros stands if you are on a tight budget (where you can enjoy delicious grilled meats wrapped in pita bread). And while it is tempting to spend the entire day lounging by the pool with sipping cocktails, Santorini is also pricey for alcohol, so moderation is vital!
Conclusion
I hope you enjoyed this Ultimate guide to travel to Santorini! From its breathtaking landscapes and architecture to its delicious cuisine and fine wine, this lovely island has a lot to offer visitors. If you are planning to travel to Santorini, be sure to keep these tips in mind to make the most of your experience.
Have a nice vacation on Santorini island!

Hey there! I'm Kartik. I am a finance professional and a travel and lifestyle blogger. I am vegetarian, but I love adventuring food. Jeric and I work together to deliver high-quality content for you. Adventure the fun!