If you are planning to travel to Thailand, congratulations! You are in for a real treat. Thailand is a beautiful country with so much to see and do. Traveling to Thailand was once regarded as nothing less than audacious. But that is no longer the case. It is currently one of the East's most popular travel destinations. There are so many beautiful places to visit in Thailand. The Thai kingdom has a lot to offer, and one visit will never be enough to explore all of its sides. From the breathtaking beaches of Phuket, Koh Samui, and Krabi to the cosmopolitan charm of the capital Bangkok. And from the bustling lowlands to the spectacular hills of the Golden Triangle. Therefore, to help you make the most of your trip, I have compiled a list of our best tips for travel in Thailand. So, stay tuned!
Travel to Thailand – Ultimate Guide
Just as it is necessary to have the right information for any trip, similarly it is necessary to have qualified information for a beautiful place like Thailand. But now do not worry about it. Because I have covered all the information in this Travel to Thailand – Ultimate Guide article. So, Let me start now.
When to Visit Thailand
The best time to visit Thailand is during the cool, dry season from November to early April. This is when temperatures are most pleasant, rainfall is at a minimum and humidity is low. But this is also peak season, so expect higher prices and crowded conditions at major tourist attractions.
If you are looking to avoid the crowds (and save some money), consider visiting Thailand during the hot, wet season from May to October. Although conditions can be uncomfortably hot and humid during this time of year, there are some advantages to traveling during the off-season: lower prices, fewer tourists, and less-crowded beaches and attractions. Plus, this is when you will find some of Thailand's best festivals, including Songkran (Thai New Year) in April and Loy Krathong in November.
What to Pack for Thailand Trip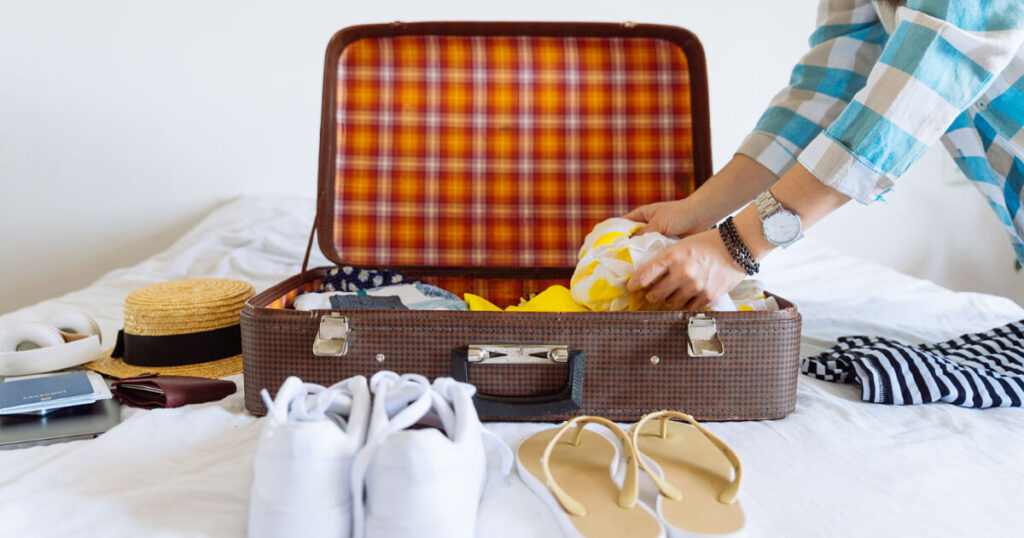 Trust me, Thailand packing is not so stressful. Because Thailand is a really hot country, you do not need to take big and heavy warm clothes like a jacket or sweater. Here are a few essential items to pack to make the most of your time in the country, whether you are touring Bangkok, soaking up the sun on a southern beach, or trekking through the jungle.
Insect repellent
Thailand is tropical and there are plenty of mosquitoes, especially in rural areas. Be sure to pack insect repellent with DEET to keep them at bay.
Sunscreen
With its equator-adjacent location and year-round sunny weather, you will need sunscreen no matter when you visit Thailand. Choose a high SPF since the sun is very strong.
First-Aid kit
Be prepared for minor injuries and illnesses by packing a small first-aid kit with bandages, antiseptic wipes, painkillers, and diarrhea medication.
Comfortable shoes
Whether you are touring temples or haggling at marketplaces, you will be walking a lot in Thailand. The key to preventing blisters and painful feet is wearing comfortable shoes. While packing for your Thailand trip, do not forget to pack flip-flops for enjoying at beaches.
Hat or scarf
To protect your head and face from the sun, pack a wide-brimmed hat or light scarf that can double as a head covering when visiting temples.
Loose – airy clothing
Loose-fitting, lightweight clothing made from natural fabrics like cotton will help keep you cool in Thailand's warm climate. Avoid dark colors that will absorb heat — stick to white, light blue, and other light shades.
Plastic bag
Pack plastic zip-lock bags and a larger trash bag, trust me it will be very helpful to store your wet things.
Charger or adaptor
The electrical current in Thailand is 220 volts, alternating at 50 cycles per second, and the outlets can accommodate either a flat blade plug or a plug with two circular pins. You will want an electrical adapter or converter if the plugs on your appliances are a different shape or the voltage is different.
Where to Stay in Thailand
Where will you stay? should be the first consideration while making travel plans to Thailand. Bangkok, Phuket, and Chiang Mai are the top tourist destinations. The largest city and capital of Thailand is Bangkok. As it has so many attractions and things to do, it's a perfect site to start your tour. The largest island in Thailand is Phuket, which is famous for its beaches. A little city in northern Thailand, Chiang Mai is renowned for its traditional culture and hilly surroundings.
Consider the kind of experience you want when choosing a place to stay. Bangkok is a bustling metropolis with a wide variety of shopping and nightlife opportunities. Phuket is ideal for beachgoers who want to unwind or for those who wish to engage in water sports. For people who wish to experience Thai culture and discover nature, Chiang Mai is the best place to go.
Keep in mind that accommodation prices can vary greatly depending on the location and time of year. Bangkok and Phuket are generally more expensive than Chiang Mai, but prices can go up during peak tourist season (November-February). It's advisable to book your accommodation in advance, especially if you are traveling during the high season.
How to Get Around Thailand
Depending on your travel plans and budget, there are many ways to get around Thailand. The most common mode of transportation in the nation is the bus, which is reasonably priced and stops at most major locations. Local buses connect smaller towns and villages, whereas express buses travel between major cities.
Taking the train is an additional well-liked method of transportation in Thailand. Although it is not as comprehensive as the bus network, the train network covers the majority of the nation. Although it costs a little more, the train is often speedier and more comfortable than the bus.
Flying can be the ideal choice for you if you intend to travel to remote towns or bounce between many islands. In Thailand, there are numerous domestic airlines that offer service to all of the main airports. Generally speaking, flying is more expensive than other modes of transportation, but it is also the quickest.
The final option for getting around Thailand is to rent a car or motorbike. This option is only really suitable if you are planning on staying in one place or if you are confident in your ability to drive in traffic. If you want to explore Thailand at your own pace and take some side trips off the usual road, renting a car or motorbike is another excellent choice.
What to Eat in Thailand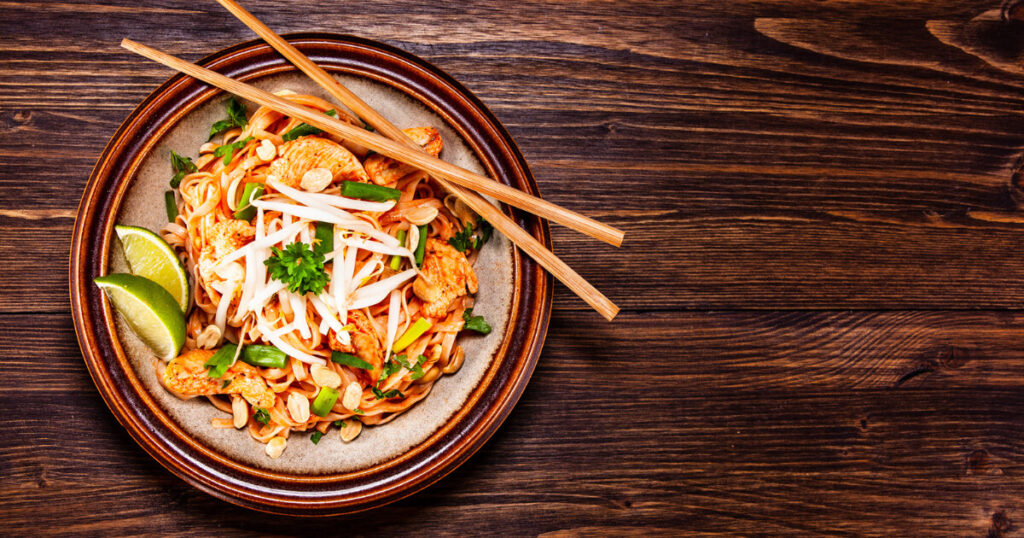 Thai cuisine is very famous throughout the world for its vivacious flavors, natural ingredients, and creative recipes. When it comes to dining in Thailand, there are many options to consider, from family-style meals to street cuisine nibbles.
Here are some of the top foods to try in Thailand to ensure you get the most out of your culinary experience:
Green Curry: A staple of Thai cuisine, green curry is made with coconut milk, Thai green chili peppers, and fish sauce. It usually serves with rice and your protein of choice.
Pad Thai: This iconic dish is made with rice noodles, eggs, tamarind sauce, and a protein of your choice (chicken, shrimp, or tofu). It often serves with a side of fresh vegetables and a lime wedge.
Tom Yum Soup: This delicious soup features lemongrass, galangal, kaffir lime leaves, lime juice, fish sauce, and chili peppers. It is traditionally made with chicken or shrimp but can also be vegetarian.
Khao Soi: A Northern Thai specialty, this dish is made with egg noodles in a curry soup base topped with crispy fried noodles. It usually serves with chicken or beef but can also be vegetarian.
Mango Sticky Rice: This popular dessert is made with glutinous rice, mangoes, and coconut milk. It often serves as a street food snack but can also be found in restaurants.
General Precautions for Your Safety in Thailand
Thailand is referred to as "The Land of Smiles" for good reason because the locals are some of the kindest and most friendly people you will ever meet on your Thailand trip.
Traveling in Thailand is therefore not only simple but also a lot of fun. However, there are several aspects of traveling in Thailand that you should take into account in order to make your trip not only memorable but also secure and enjoyable.
Although Thailand is not an unsafe country to go to, some minor annoyances are extremely common in several locations, especially in Bangkok.
Taxi in Thailand
Use only official, metered taxis, which are widely available in Bangkok and several regional centers. Songtheows covered commercial vehicles with two benches in the rear, which are the norm in areas without metered taxi service. Before starting your trip, bargain the fare if you are taking a songthaew.
Tuk-Tuks in Thailand
In Thailand, the drivers of these motorized, three-wheel taxis are well-known for defrauding tourists. They will take you from one commissioned spot to another instead of taking tourists on a 20 baht tour of Thailand, which will offer little in the way of sightseeing or entertainment. Before starting your journey, bargain for a price and a direct route to your location if you plan to take a tuk-tuk.
Emergencies & Tourist Assistance in Thailand
If you require assistance in English, call the TAT (Tourism Authority of Thailand) in the neighborhood where you are staying during business hours (check with your hotel or guidebook for contact numbers). Check with the employees at your accommodation after hours, or get in touch with the local police department or tourist police. The majority of hospitals in Thailand have emergency rooms open around the clock.
Travel Insurance
Please make sure you have the proper medical and travel insurance, as well as supplemental coverage for any pricey or luxurious products before you go to Thailand.
Drugs Law
The sale, purchase, and possession of marijuana, heroin, opium, and other "hard" drugs are all illegal by Thai law. Penalties are severe, including the death penalty and life in jail, despite their widespread use in Thailand.
Thailand for Solo Women
Although it is unlikely that female tourists will face harassment while visiting Thailand alone. But it is a good idea to let someone know your plans before you go. Use only metered taxis and exercise caution if you plan to go alone at night.
Travel to Thailand with Kids
In Thailand, traveling with kids can be a lot of fun. Youngsters are adored in Thailand, and children from other countries that visit will receive special treatment. For some kids, this could seem scary at first (and their parents). If you find it all a little overwhelming, the best course of action is to smile and gently decline invitations to hold, play with, or feed your child. You will undoubtedly discover immediate playmates to occupy your kids and provide you with a little free time if you and your child enjoy the attention.
Drinking Water
In Thailand, stay away from tap water. The entire nation has easy access to bottled water. If at all feasible, bring your own water bottle. If not, look for water refill stations, Don't worry you can refill your water bottle at numerous resorts. Ask if a water refill service is available if you are unsure. By supporting recycling, you have nothing to lose and everything to gain.
Etiquette Tips for Visiting Thailand
Thailand is a stunning nation with a vibrant culture and hospitable citizens. Here are some etiquette tips for visiting Thailand to make your journey more enjoyable:
Dress conservatively. Most Thai people are conservative, so it is important to wear modest clothing. Avoid wearing short shorts, low-cut shirts, and other provocative attire.
Take off your shoes before entering any religious place or someone's home. As a symbol of respect, Thais remove their shoes before entering a home. Before entering a temple, you should also take your shoes off.
Be mindful of the "wai."In the traditional Thai greeting known as the wai, you bow your head and clasp your hands in front of your chest. It is polite to give someone their "wai" back when you meet them.
Avoid touching people's heads. Touching someone on the head is considered impolite in Thai culture since the head is regarded as the most sacred portion of the body.
Don't use your feet as a pointer. Thai society views the feet as the lowest part of the body, hence pointing with your feet is frowned upon. You can use your hand or chin to point if you need to.
Conclusion
Thailand is one of the most attractive places in the world, whether you go for the beaches, temples, green forests, island hopping, or food. All you have to do now is concentrate on having fun since now you know everything from when to visit, what to bring, what to eat, and where to stay!
Thanks for reading through to the end of my comprehensive travel guide to Thailand. Please leave a comment below if you have any further suggestions or recommendations about traveling to Thailand.
Have a beautiful Thailand trip!
Hey there! I'm Kartik. I am a finance professional and a travel and lifestyle blogger. I am vegetarian, but I love adventuring food. Jeric and I work together to deliver high-quality content for you. Adventure the fun!